How To Restore Your Skin Post-Holiday

Although the summer can leave us relaxed, glowing, and with sun-kissed skin, it can come at a cost.

Spending too much time in the sun can be damaging, cause uneven skin tone and texture, and leave  skin dried out.
Think:  Dryness, lines, wrinkles, hyperpigmentation 
Let us show you how to

restore

and

revitalise

your skin and bring a healthy, radiant glow back to your complexion
Post Summer Skin Care Shot

The best way to treat dry, parched skin.
Sleepless Nights Calming Face Oil 
If your skin is feeling tight and looking dry, dull or flaky It's probably because the sun has sucked all the moisture out of it.
This, combined with travelling, erratic sleep hours and dietary changes, as you bask in in some much needed R&R time, does not mix well with your already, hormone deficient skin.
Now is the perfect time to

indulge

your parched skin with a shot of Phytomone's extremely nourishing

Sleepless Nights Calming Face Oil

. 

This

rejuvenating

oil is made from 100% natural ingredients, formulated with essential oils of Tuberose,

Vanilla

, Geranium and Lavender, and with botanical oils of Hibiscus flower, Cameillia and Evening Primrose.
It is a luxurious,

youthful

concentrate of

energy

for the skin and the mind, and delivers a much needed shot of intense nourishment and moisture. Your complexion will instantly look

smoother

, plumper and

firmer

, with a fresh luminous glow.
Use on its own, or simply add one or two drops to

Pause Hydra Creme

face cream for an added boost of power. 
Tackle Age Spots & Dull Looking Skin

Bring your post holiday skin back to life


Pause Hydra Creme


It is not only the sun that causes age spots. Declining hormones will now also emphasis these pigmentation marks, as melanin goes unregulated without the influence of oestrogen. 
Pause Hydra Creme contains

Cosmetic HRT

to boost oestrogen receptors with this much needed natural hormone, as well as a special sequence of

active

peptides to control the production of melanin, which will diminish the appearance of age spots and help to prevent the development of future ones.
We recommend using Pause Hydra Creme morning and evening to achieve a beautiful smooth and

radiant

looking complexion.
For an added surge of

nourishment

, add one or two drops of the luxurious Sleepless Nights Calming Face Oil to boost the

powers

of this magical cream.
YOUR INCREDIBLE OFFER SAVE

£30



Post Summer Skin Care Duo:
The Perfect Pair:
Pause Hydra Creme & Sleepless Night's Calming Face Oil
Pause Hydra Creme Moisturiser (with cosmetic HRT) Experience a
radiant
post summer complexion with the restorative effects of Pause Hydra Creme, the ultimate multi functional face cream.
You no longer need separate serums, eye creams or neck creams with this
'face of the future'
moisturiser, which has been developed with
Cosmetic HRT
, to keep your hormonally ageing skin perfectly balanced and protected .
Guaranteed to give your complexion a powerful post summer
boost
. Leaving skin looking
rejuvenated
, soft and smooth, while reducing the appearance of lines and wrinkles.
Sleepless Nights calming face oil.
On it's own our Sleepless Nights Calming Face Oil offers powerful deep nourishing properties. But when you add a shot of this
youth enhancing elixir
to Pause Hydra Creme, you will discover a concentrate of energy that will bring your parched, dehydrated post summer skin back to life.
Leaving your complexion looking more
radiant
and
luminous
than you ever thought possible.
The Post Summer Skin care Set:
Pause Hydra Creme 50ml
Sleepless Nights Calming face Oil
Both Products Are Full Size
Voted Best New British Brand:
Pure Beauty Awards
Daily Mail Discovers Phytomone:
Daily Mail
Shop with us

today

and experience the Phytomone difference!
The 100% No-Risk Promise
Order now with confidence!

Our Team of experts are always on hand to offer further advice and consultations

If however after 14 days   of use and consultation  we find Phytomone products to be not suitable for your skin type we offer a full money back promise.
There is absolutely  no-risk in giving it a try.

OFFER CLOSES WHEN TIMER IS ZERO
AWARD WINNING
Phytomone Cosmetic HRT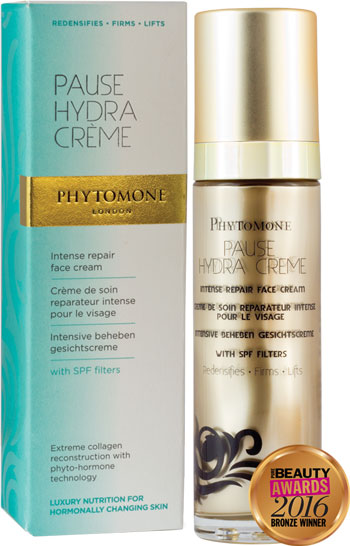 AWARD WINNING
Luxurious face Oil
Save £30!
Mood Swings Balancing Body Oil Like all the other products from Phytomone, this oil is super luxurious, I use it every night, the perfume is gorgeous and it feels heavenly on my skin. I massage my face, neck and shoulders and finish using the wonderful Phytomone Pause Hydra Creme.
Pause hydra creme I've been using this creme now for about two weeks I'm very happy with it one measure is good coverage for my face and neck it feels good on my skin without any sticky residue. My skin condition has improved my pores appear smaller and fine lines have reduced. I'm definitely using this from now on. Makeup smoothes on better. It just feels good.
– Verified Buyer Paige D.
Pause Hydra Creme :
Immediate results I love this cream and noticed a difference in my skin immediately. I am using the Skin Exhaustion cleansing oil and also the Sleepless Nights oil and I am super impressed. I have used a leading skincare range for a long time but just felt their anti aging products were becoming a little harsh for my skin and causing it to look tired & taut. Phytomone has rectified this & it does deliver a healthy glow & plump skin as promised. Thank you I feel so much better
– Verified Buyer Jeanette.C
Sleepless nights calming face oil This gourgeously scented oil absorbs gradually to rebalance and give back elasticity and moisture. I have had loads of comments recently about how great my skin looks. Thank you
QUESTIONS? COMMENTS? WE LOVE TO HEAR FROM YOU!
WE SHIP WORLD WIDE BY COURIER FOR YOUR CONVENIENCE

Phytomones London UK Award Winning Skin Care Manufacturer.
If you need to contact us with questions, feedback, testimonial or a suggestion, please send an email to support@phytomone.com. All emails are typically responded to within 24 to 48 hours
For all other correspondence:
Company Contact Information
Phytomones Ltd 

2nd Floor Woodbury Grove London N12 0DR
UK Company Registration 7690943
Tel: +44208 090 4242